YES! Vegan shoes!
This is all about women's shoes. Sorry men! Come back for the next post. Although, for the next one, we might be talking about purses, hmm.
When I go shopping for shoes, my favorite LABEL is not Gucci or Chanel, it's "ALL MAN MADE MATERIALS" ... !!! And of course, I would love for my shoes to be fair trade. Definitely I don't want shoes made in some hell on Earth like Santa's workshop where the elves are slaving away day and night, without getting paid overtime, in sub-zero temperatures.
* the elves' toy making. (not elve's) (bah!) (However, I do love the idea of Santa's Elvises driving the poor elves into a feverish pitch of toy-making activity! Talk about a "Blue Christmas"!)
Like any girl, I love shoes that are beautiful and comfortable, but I must say, I do err on the side of comfortable and functional, because I live in San Francisco and commute by public transit to Oakland for work. I walk at least 2 miles per day just getting back and forth from home and work. On the weekends, it's the same deal, Jeff and I walk for miles and miles just to go stores and restaurants and have fun. On top of that, when I'm by myself, typically I'm running late. That means I am literally RUNNING the two miles per day, in whatever shoes I happen to have on.
Vegan Rhino Wedge Sandal by Mink


http://www.mooshoes.com/index.php?product=RHI&c=12&color=Gry
So ... while I love me some sexy platform heels, I'm sad to say, they generally don't work for me ... most of the time. :)
The other constraint is that I like to wear shoes that enable me to swing dance spontaneously with my sweetie, if the mood strikes us. I've found that very high platform shoes like the one above, are not easy to dance in. It's a bummer to get caught wearing shoes like that, and then there's no way you can dance, unless you want to go barefoot.
Another factor is that I don't have a lot of space to store hundreds of pairs of shoes ... so I like shoes that are versatile.
What I need is a "do it all" kind of shoe!!! Does such a thing exist? Yes, I have found something that is pretty close! Alas, it is probably made by Santa's elves in the coldest and most austere part of China. But it does almost everything I need it to do. It's very comfortable (even when I am running 1 mile each way), and it's all man-made materials!
I wear those Aerosoles all the time. I'm now on my third pair! I also have an awesome pair of "all man made materials" boots, in the style of leather go-go boots, which I found for about $50 (something like 75% off) at some Financial District shoe store, back when I lived there, about five years ago. Sadly, these shoes were also likely from a sweatshop! I don't wear the boots on a daily basis, so they are still in great shape. Sorry I don't have a picture. Hmm, will see if I can get a good picture and post it here later.
And I have a pair of waterproof "duck boots" that I wear on rainy days when I have to wade through puddles to get to work. Those are also a few years old, but since I only wear them maybe 10 days out of the year, they are still doing great.
Now for what we really want to talk about: "fair trade," sweatshop-free, and/or recycled vintage veggie shoes!
Right now I am digging these Novacas black pumps.
I probably can't run two miles in these, but for a more formal occasion, these would be a nice step up from my Aerosoles. And I love these pumps from Novacas.
Novacas is named for the Spanish / Portuguese words for "no cows." According to niceshoes.ca, Novacas '"
produces products that are made from the highest quality synthetic microfibers available and are 100% PVC-free. Shoes are ethically manufactured in Portugal at worker-friendly factories according to labor standards set forth by the European Union." So hopefully these are shoes you can feel good about!
Here'es a sensible black pump for wearing to work (if you work in an office).
And how about these fun sandals by Madden Girl?
The listing doesn't say anything about the health and happiness of the worker bees at Madden Girl. But it is listed on "Nice Shoes" where the motto is "Vegan. Ethical. Fashionable." So the shoes have got to be ethical, right !?!? One would hope.
The next shoe is one I have owned (bought 2 pairs in a row), and I found it to be very cute with casual skirts or pants. I used to run to the train station in these, until I wore holes into the bottoms of the soles. CLEARLY they weren't as durable as my sturdy Aerosoles! And they didn't provide as much arch support for running. (Yeah, I know they weren't really designed for that, but I'm just sayin'.) Also they weren't the greatest for dancing because the heel would not stay on; when dancing in these, I'd spend half the time stepping in and out of my shoes.
The Ally Sandal comes in black and also in red, which definitely ups the cute factor! Made in Spain, where you know the worker bees are happy as can be. The food is good, the people are sexy, life is fantastic.
According to niceshoes.ca, "Vegetarians Shoes
designs and produces all
animal and worker friendly shoes made exclusively in European and
English factories, including the oldest co-op in the England,
established in 1881!"
Now how about some sneakers? First of all, I need good sneakers for dancing out on the concrete sidewalks at Lindy in the Park on Sundays. I have found that anything in the Keds / Oxford style works great for dancing at the park. I recently purchased a pair of these from Vegan Essentials:
The Slim Oxford II is billed an eco-friendly shoe, but I don't know if it's fair trade. Definitely it is all man-made materials, being at VeganEssentials.com. The shoe below is by Draven, which is another vegan-friendly shoe company. Either of these shoes would be fine for dancing in the park.
And how about for WORK? Some of you may know that I am a bridge inspector. I have to go scrambling over, through, under, and around the bridges, and I need some comfortable and sturdy shoes! Actually, they are required to be "boots" of some kind, but they don't have to be rigid sole, and they don't have to be steel toe. Here are the boots I have for work:
I realize these aren't sexy at all, but honestly this is just the right thing for my job. A good, sturdy vegan boot! If you want work boots with steel toes, I think these are awesome:
Now I just came back from a trip to Texas, and I saw lots of people wearing (what appeared to be) leather cowboy boots. So the vegan folks aren't left out of fashion, did you know that vegan cowgirl boots are available, too? Some of those leather cowboy boots go for more than $1000 a pair, so these boots are a steal for the regular price of $149.99. They're on sale right now at Vegan Essentials for $49.99, in just a few sizes.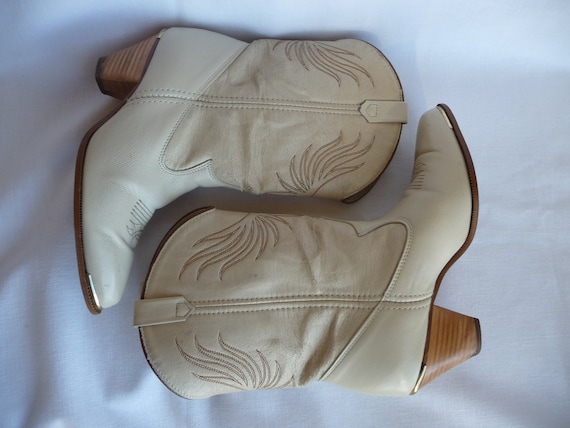 Vegan Western Cowgirl Boots in Cream Pleather $35
Another great place to shop for beautiful vegan shoes is on
ETSY.com
. They have some wonderful new or barely used gems. A lovely place to browse and daydream!
So as you can see, there are lots of fun and practical vegan options out there for shoes.
I strive every day to make purchases free of animal products. Nonetheless, despite the many styles of vegan shoes theoretically available, I have run across some vegan road blocks. As an example, for swing dancing, even if you get shoes made with fabric uppers (as I do), the soles are still made with leather, because they are designed to help you slide on the floor. I know that all-vegan swing dance shoes must be out there, so feel free to write in with tips.
Another example is rock climbing shoes ... I purchased mine back in 1998 or 1999. I didn't even know what the were made of, but 13 years later, they were falling apart to the point that my toes were sticking out. Time for new shoes! I went to REI for replacements and found out my old shoes were leather. I had no idea. They were dyed a bright teal color. I didn't want to buy those again, so I spent the next month looking for a vegan replacement (trying out different brands, etc). The search was not going well, and I was climbing quite a lot. I had to get something I was comfortable in, so indeed I purchased the same kind I had before (only comes in leather) as a replacement. (I'm also hoping to get the old ones re-sewed and re-sold, but I'm a procrastinator and who knows when I'll get that done.)
Meanwhile I kept searching for a vegan climbing shoe. Awhile later I did find a vegan style that eventually (after breaking the shoes in) worked well for me. It is the
Mad Rock Mugen Tech Lace 2.0
. So now I have two good pairs or climbing shoes, one that's vegan and one that isn't.
If folks want to call me a hypocrite for making occasional non-vegan purchases, or for sometimes buying shoes that were likely produced in an oppressive sweat shop somewhere, that's fine. I'm comfortable with my goal (vegan, no animal products, sweatshop-free, eco-friendly style shopping), while acknowledging that not all of my purchases fit 100%.
So I want to encourage everyone to have fun with vegan shopping, and do your best to find vegan alternatives. But don't beat yourself up for it if you need a special kind of shoe and can't find a vegan, sweatshop-free version. I truly believe that sometimes your time is better spent just getting what you need and moving on. As more and more people demand vegan and sweatshop-free products, it will become easier to find vegan versions of niche items like swing dance shoes and rock climbing shoes.
And ... instead of endlessly shopping for the perfect 100% vegan something-or-another and coming up empty-handed, day after day ... you could be going out there dancing or rock climbing and showing people how much fun it is to be vegan. :)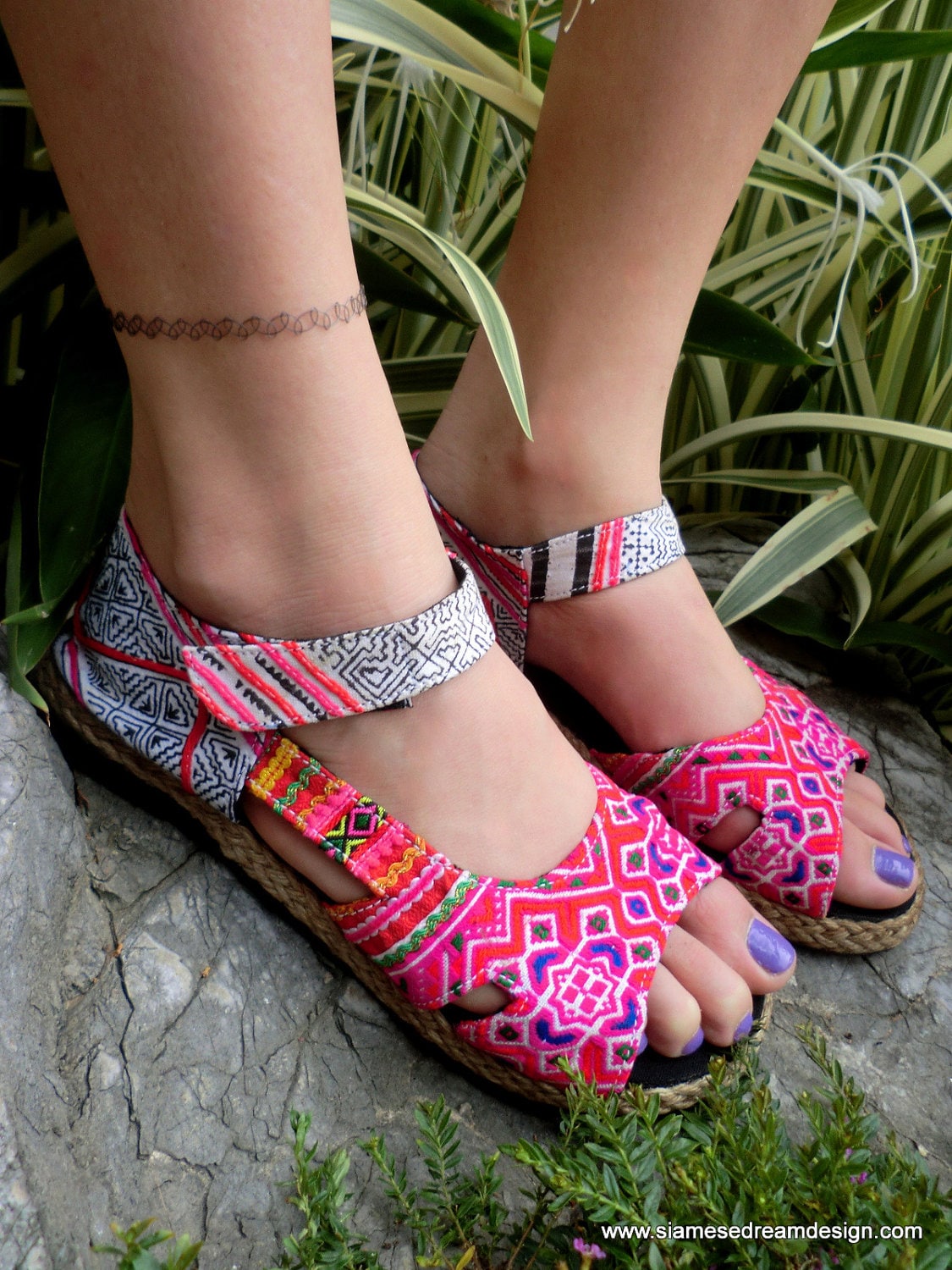 Espadrille Hmong Embroidery Vegan Shoe
If you want to see more styles of shockingly beautiful vegan shoes,
check out this pinterest by Vanessa Rae.